Sometimes we know people but not really. This was the case for me with the singer Laura Palmer, aka Laura Rebel Angel. We'd both recently been in an online music community and thus become Facebook friends but had never met; however, her post last week announcing her first gig with the Done Wrongs caught my eye.
Aside from dropping in at the Bitter End about a month ago to say hello to my bandmate Joan Chew, I hadn't stepped into a club or bar since before the pandemic. But bolstered by my recent booster, I walked into the tiki joint Otto's Shrunken Head, on East 14th Street, last Saturday afternoon and immediately felt at home. I'd completely forgotten I'd ever been there till my husband, the writer Robert Rosen, reminded me that we'd both been on an Internet show years ago that taped there—ReW & WhO. In the little room in the back, the charming singer-songwriter Rew Starr had hosted her show on the stage where I now saw Laura, looking radiant in a pinkish-orange 50s-style dress, with her upright bass.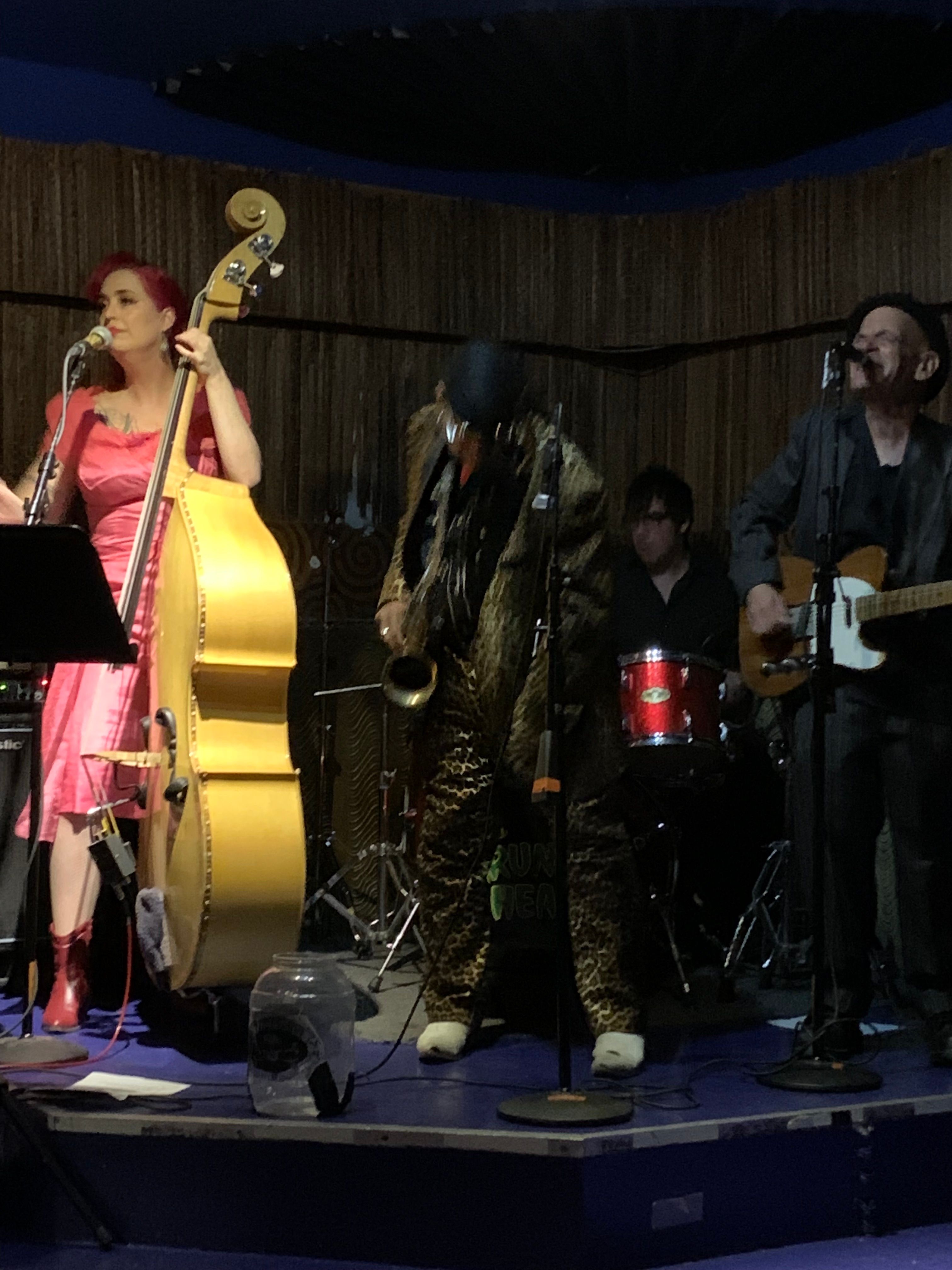 The Done Wrongs: Laura Rebel Angel, Seaton "Chuck" Hancock, JJ Murphy, and Simon Chardiet.
I'd first heard her sing several months ago, performing a bluesy number on a Zoom show, and if a Zoom can have a roof, she blew it off. She didn't disappoint on Saturday, sharing the stage with Simon Chardiet, a wild guitarist and leader of the band, Seaton "Chuck" Hancock, adding warmth with his tenor sax, and solid drummer JJ Murphy. The group played jump blues, 50s rock 'n' roll, and bebop, with Simon, Laura, and Chuck alternating lead vocals. 
Simon occasionally jumped off the stage to play directly to the Rockaway Beach contingent at one table—funny, I had just been reading about Patti Smith's Rockaway experiences in her book M Train. The person sitting next to me, Scott, told me he surfs with Simon there. Scott also introduced me to his friend Sophie, and I'd earlier met Laura's friend Pam, who added a little zest by jumping up and dancing during a couple of the rowdier numbers.
After the show, I noticed Laura leaving with her bass in its case and figured she was eager to get it home. I stopped to compliment Chuck on his velvety voice and then walked out, heading toward Avenue A. But there, in front of a store called Sally Beauty, stood Laura, sans bass, talking to Scott and Sophie, so I joined them. After the two friends left, Laura and I chatted for a bit. Then, looking at the sign behind us, she said, "Oh, beauty supplies!" and I left her to that, though honestly I think she has that aspect of being a performer all wrapped up—not to mention the singing part!
Laura will be playing again with the Done Wrongs at the Parkside Lounge on January 28, and catch her in ferocious rockabilly mode with her main group, the Screamin' Rebel Angels, as soon as you can.