In my last post I wrote about Carly Simon and her sisters, who, very sadly, had both died (within a day of each other) in October. I'd been reading Simon's memoir Boys in the Trees—as well as doing other research on her life and music—at that time. I've since written a piece for The Village Voice about Simon and Pat Benatar, the two 2022 inductees into the Rock & Roll Hall of Fame, Performer category, who were born in New York City. (I also read Benatar's memoir, Between a Heart and a Rock PIace.) I hope you'll get a chance to read the Voice article, if you haven't already.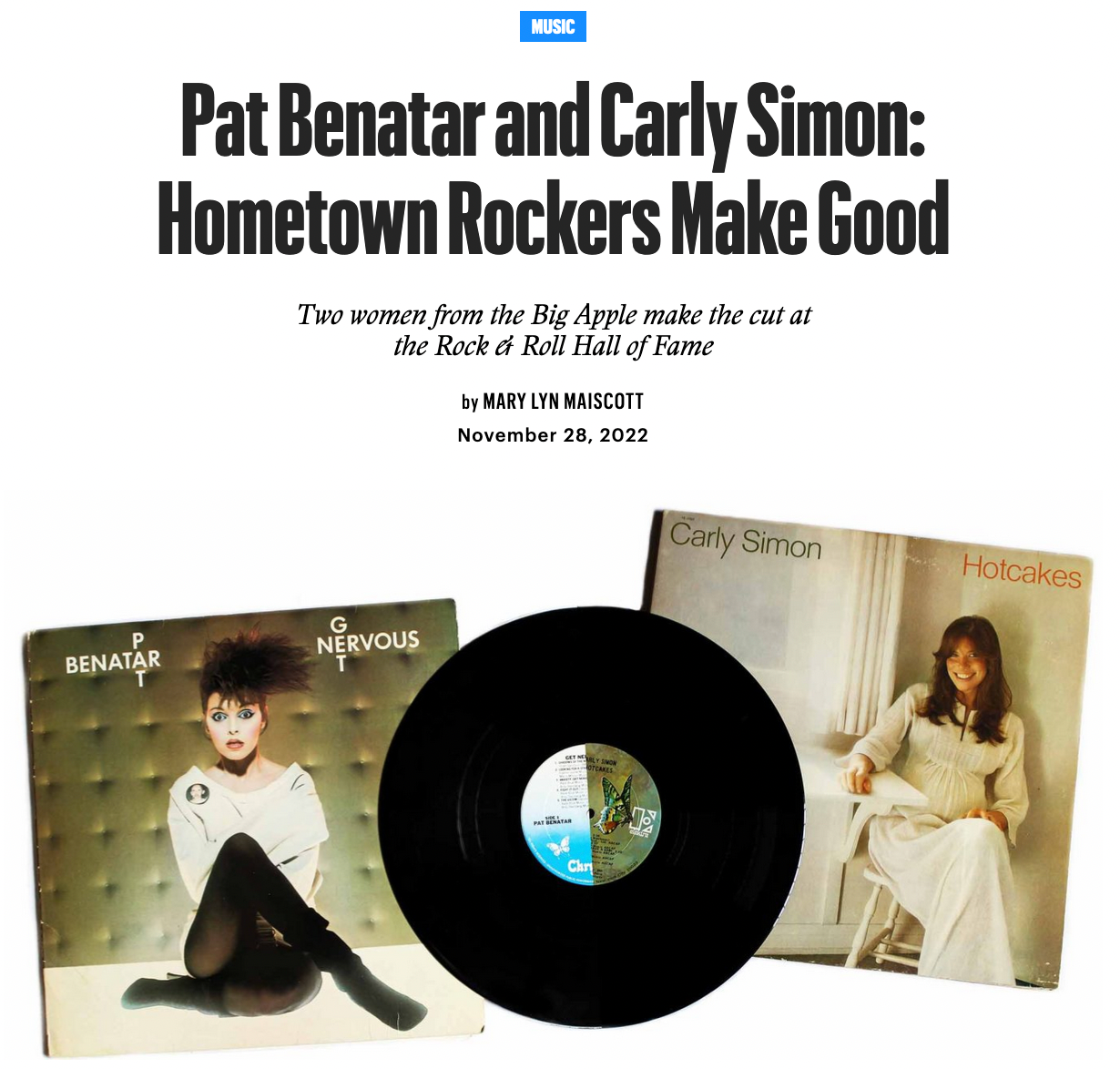 From The Village Voice, November 28, 2022.
 
Because of space limits (which can occur even in cyberspace), I couldn't fit everything I wanted into the article, so I thought I'd list a few of the more interesting outtakes or never-got-in-takes here.
 
Pat Benatar: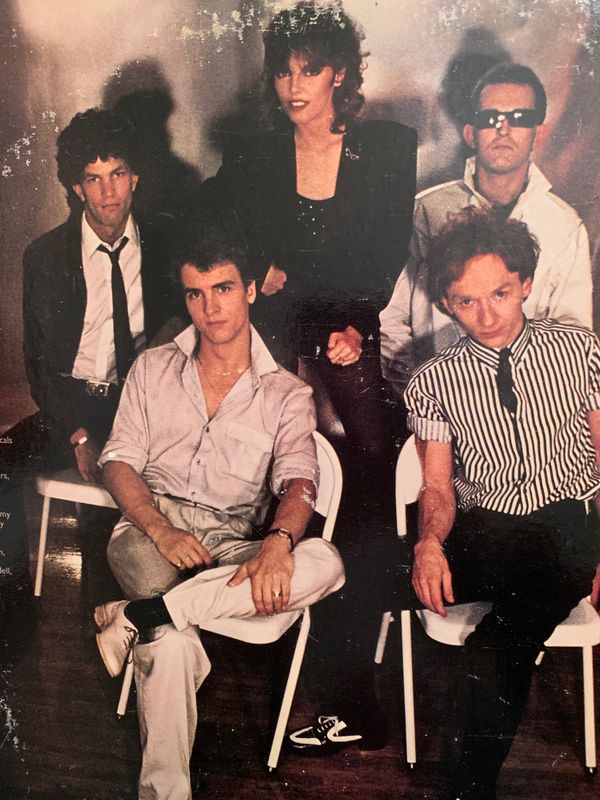 The band shot from the back of my worn copy of Crimes of Passion (1980).
Back row: Scott St. Clair Sheets, Benatar, Roger Capps
Front row: Neil Giraldo, Myron Grombacher
Original photograph: Leon Lecash
 
You may be aware that Benatar went into the Rock Hall of Fame with a partner—Neil Giraldo, her husband (of 40 years) and collaborator (of more years than that). Apparently, she had made it known that she would not accept a nomination without Giraldo being included, as she feels he's been an intrinsic part of the sound that made her a star. (Giraldo is especially attuned to the way guitars and vocals work together.)  
Giraldo calls her Patricia; she calls him Spyder—that name was on a yellow and black sign they spied from their hotel balcony while on tour in Virginia Beach in 1979. She felt he needed a nickname (since he tended to give them to other people), and those were his favorite colors.  
Giraldo was going out with actor Linda Blair (The Exorcist) when Benatar met him. She writes that she tried to conceal her glee when he later told her Blair had fallen for someone else. ("How could she want somebody else? Was she crazy? Give him to me, I love him.")  
Although theirs sounds like a fairy-tale romance, they split up for a year—a difficult one, as they were still working together—before they married. She blames the pressures of the business and the execs who tried to keep them apart, with the idea that a romantic relationship could put the band at risk. 
She says she likes her small breasts and was horrified to see a full-page Billboard ad in which she'd been "enhanced," with her tank top airbrushed away and a sign, showing the release date of her 1980 album Crimes of Passion, imposed over part of her fake chest. She called her parents to tell them "I am not naked in Billboard!"  
She was pregnant while recording Tropico and writes that because pregnancy makes the body's long muscles relax (and vocal cords are muscles), she reached new vocal heights with that 1984 album. Appropriate that its huge hit "We Belong" includes an angelic children's choir—check them out in the video, and btw, who could look better than Benatar standing under a waterfall wearing chartreuse gloves and a white jacket with madly padded shoulders (ah, the 80s)?
"Love Is a Battlefiend" (1983), by Holly Knight and Mike Chapman, was originally written as a dreamy ballad, but Giraldo heard it much differently. The song's video, which portrays a kind of stylized bordello, became iconic. Benatar writes that she's not a dancer—but I imagine her "shoulder shake" would be all over TikTok today.  
She and Giraldo long ago vowed to sing "Hell Is for Children" at every concert, "in a show of solidary" with those who suffer or have suffered from child abuse. Conversely, Benatar has lately refused to do "Hit Me With Your Best Shot" at performances, as she does not want to bring any distress to those whose loved ones have been shooting victims. (Both songs are on Crimes of Passon.) 
On 9/11, Benatar was scheduled to do a gig at a Napa Valley vineyard. She was going to cancel (though at first the promoter refused to do so) until she found out people were clamoring for the show to go on. She went ahead with it but in a different way than usual, erasing the boundary she usually constructs between herself and the audience in order to keep her emotions under control. This time, with everyone bereft and uncertain, she and audience members discussed their feelings and concerns between carefully selected songs like "Invincible" and "We Belong." "To have that conversation on that night was exhilarating and healing," she writes. 
 
Carly Simon: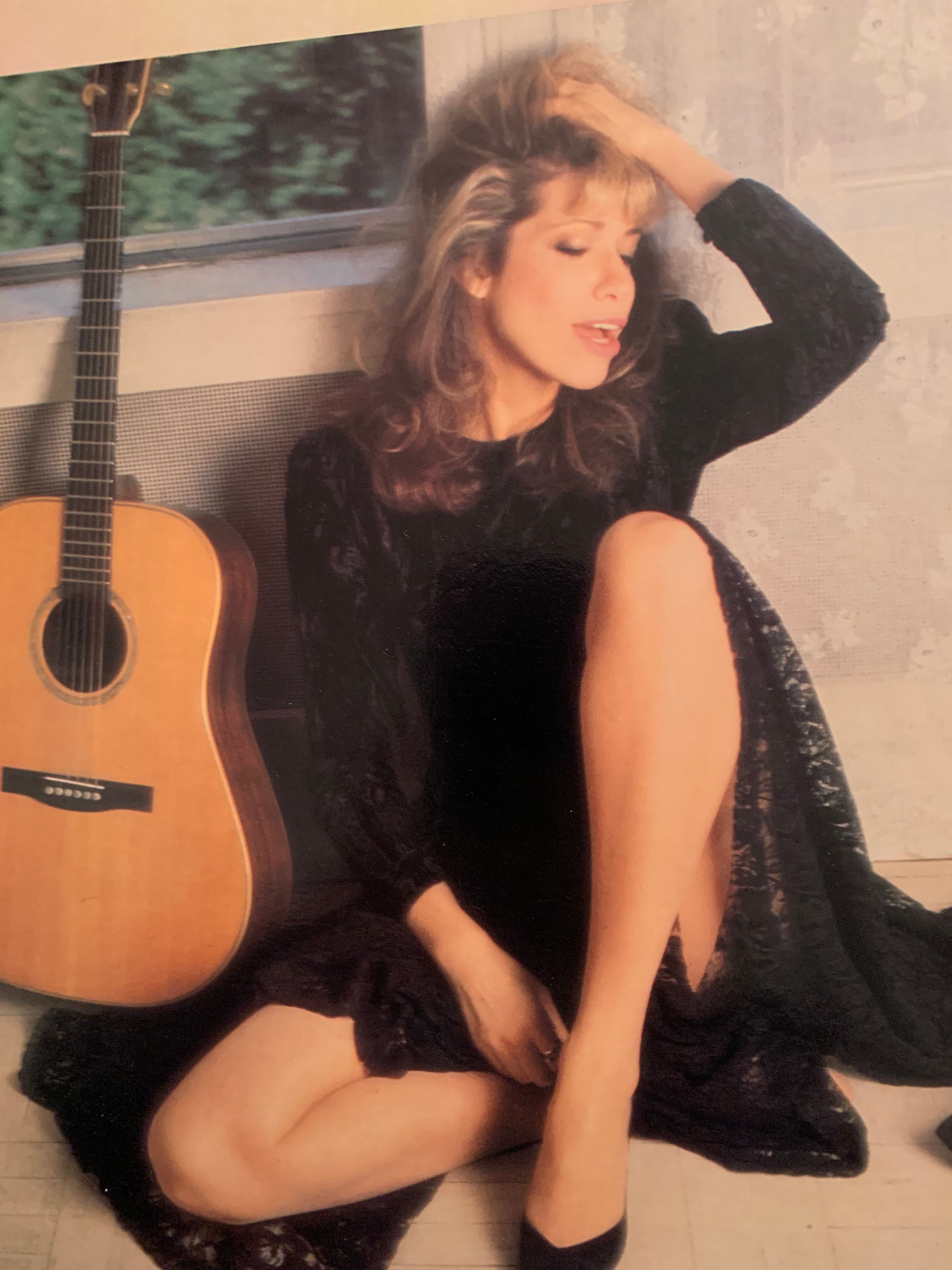 From the back of my copy of Coming Around Again (1986), an album dedicated to her friend Mike Nichols. Original photograph: Lynn Goldsmith

Simon first encountered future husband James Taylor, called "Jamie" then, when they were both kids vacationing with their families on Martha's Vineyard. She'd gone to the local market, where, on the porch, Taylor and a friend were singing. Only 11 or so, she was precociously in thrall, hoping the boys would notice when she swung her hips as she went through the screen door. (They didn't.) A little later, as she sat next to Taylor, he turned from his guitar and suddenly took a bite of her popsicle, and then another—while never looking at her. She didn't get to know him until much later, when they were adults, musicians, living in NYC.
While attending Sarah Lawrence college in the 60s, she listened over and over to Odetta records and tried to copy her sound: "Hers was everything a woman's voice could be, its power deep, sonorous, almost demanding," Simon writes. Like the young Barbra Streisand singing in stairwells to hear her own resounding voice, Simon sought out rooms with good acoustics—the gym, the bathroom—to do the same.  
She holds in her possession (at least as of the time of her memoir, 2015) a 1966 recording of a duet with Richie Havens of a reworked blues song. Although she'd been told she'd be pairing up in some way with Havens, under the name Carly and the Deacon, she wasn't aware he'd recorded a part for this song—sometime after she did her track—until after the recording had been shelved. 
In 1970, she told the manager Jerry Brandt that she didn't want to be a performer, she wanted to be a songwriter for other performers. He ignored that and set up a demo session for her—she still imagined the demos would be sent to other singers—soon getting her signed by Elektra Records. Luckily, she went along with it.  
Her smash hit "You're So Vain," released in 1972, began life as "Bless You, Ben" (which for a time morphed into "Ballad of a Vain Man"). This was several years before her son, Ben, was born, though James Taylor had already predicted he and Simon would have a boy named Ben (as well as a girl named Sarah).  
Her second husband, James Hart, credits her with helping him come to terms with his sexuality, 12 or so years into their marriage. "She turned over one morning and said, 'I think you might be gay,'" Hart told Fox News after the publication of his memoir, Lucky Jim, in 2017. He added, "One of the wonders of Carly is her insistence on truth." Hart also revealed that he and Simon once set up their friend Jackie Onassis, at her request, with Alec Baldwin, as her date on her birthday.  
Simon was diagnosed with breast cancer in 1997. "It's after the knives and the sutures and needles, I'm left with an arrow that points at my heart," she sings in "Scar," from her 2000 album, The Bedroom Tapes. There is that insistence on truth Hart spoke of, the details she doesn't flinch from, even in her songs. The song is hopeful, though, ending with a Gaelic coda that itself ends with (translated): "Show me your scar/And I will make it better." She spoke about the song at an ASCAP event in 2012. 
Taylor Swift has said that when she first heard "You're So Vain," she thought, "That is the best song that has ever been written." During a show that Swift did in Massachusetts in 2013, she brought out Simon, wearing a short silver sequined skirt, for a spirited duet of the classic song. As Olivia Rodrigo did during the Rock Hall induction show, Simon and Swift pogoed during the very rhythmic parts.
As we all should! My respect and love for both these artists has been magnified by what I've learned about them. Hope you've enjoyed going with me on a deep dive into their lives and work.