Lately, pursuing a writing idea, I've been immersed in Carly Simon—her stimulating, almost fantastical childhood in NYC (the Village and then Riverdale) and Stamford, Connecticut; her transitions from stuttering child to folk singer, in a duo with her sister Lucy, to pop-rock sensation; her consuming love for James Taylor (they divorced in 1981); her life in an ever-expanding eccentric house on Martha's Vineyard; and of course her music.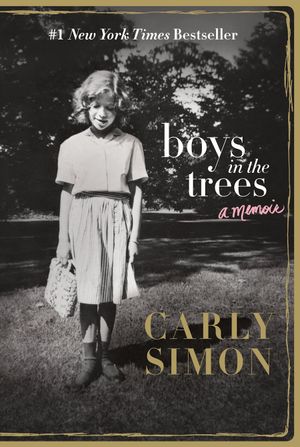 Carly's two sisters play large parts in her entrancing memoir, Boys in the Trees (2015), especially Lucy, closer to her in age. It's Lucy with whom she begins her musical career: the newly named Simon Sisters, on a lark and armed with their guitars, take off to Cape Cod one summer and quickly land a gig. This marks the start of an exciting partnership—until Lucy decides to marry and go to nursing school (she would later become a Broadway composer). Years later, it's Lucy who comes to the rescue during a show of Carly's in Pittsburgh, one that takes a devastating turn when Carly, her marriage to Taylor nearly over, has a panic attack onstage. 
Joanna, or "Joey," is a slightly more distant figure, but one that the young Carly idealizes, as she would memorialize in her song "My Older Sister." As a young woman, Carly lived in Manhattan, as did Joanna, by then a glamorous, self-possessed opera singer (her mezzo-soprano voice soars in background vocals for Carly's song "Haunting"). When the two were walking home one evening, Carly spotted James Taylor's photo on the cover of Time magazine. "I'm going to marry him," she blurted out, though she barely knew him (both the Simons and the Taylors vacationed on Martha's Vineyard, and she had met him when they were children). In an interview with Dan Rather several years ago, Carly told this story, then said that Joey "can vouch for this." Sister as witness. 
As a child, Carly felt that her father, Richard Simon, cofounder of the publishing giant Simon & Schuster, admired and loved her sisters more than her. As though to prove this, he once wrote her a poem that cited her "fat nose." But rather than resenting her sisters, Carly saw them (for the most part) as her refuge. She wrote that Lucy was "my grounding influence, my heroine, my pilot." 
So it saddened me greatly to read that both of Carly's sisters had died of cancer last week, within one day of each other—in Joanna's case, a day before her own birthday. (Their brother, Peter, died several years ago.) Yesterday Carly issued a statement: "Their loss will be long and haunting…. We were three sisters who not only took turns blazing trails and marking courses for one another, we were each other's secret shares. The co-keepers of each other's memories…. Those of us they've left behind will be lucky and honored to carry their memories forward. With great and eternal love and respect." 
I will let you know if my writing idea works out. In the meantime, I'm glad to have spent precious time in the world of the very musical, very complex, very memorable sisters Simon.