My EP Dream: Live Recordings from the Map Room is out Dec. 22! All six songs were performed in a small room at the very cool Bowery Electric in NYC. For a few years now Joan Chew and Graig Janssen have been accompanying me at shows. We figure out the arrangements during our rehearsals, and these fantastic musicians are quite adept at coming up with parts that not only fit but enhance the songs. Plus they sing background! I'm so lucky to have them working with me.
Here's the cover art, which I designed using a photo I took from an airplane while flying from California to New York (my phone tells me we were over Ravenna, Ohio). Click on the image to find the EP on your favorite music platform.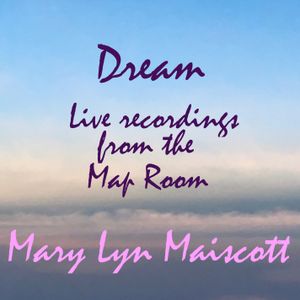 These are the tracks: 
"All I Have to Do Is Dream." A cover of the song made popular by the Everly Brothers, this is a slowed-down, intimate, no-harmonies version. It was the advance single, so I've already written about it here. Responses so far include "stunning," "killer vocals," "one of the best covers I've ever heard," "sounded like it was ripped from your heart."
"Woman with a Secret." This is sort of a story song, similar in that way to my "Angel Tatooed Ballerina." I thought of it as having an agitated feel, and after I heard a wildly kinetic contemporary classical piece played by a remarkable string orchestra, I asked Joan if we could convey that agitation with the violin as well as the vocal. She rose to the occasion, as did Graig Janssen with a stop/start guitar part. 
"Our Lady of the Tears." I wrote this when I was going through an emotionally rough time. But the initial inspiration came from a picture of my nephew's daughter, Chloe, who was four at the time. She had put something over her head that looked like a long veil, and this reminded me of the many "holy cards" I had as a child that depicted Mary, the mother of Jesus—often called Our Lady. She was sometimes wearing a blue veil and sometimes a mesmerizing pearlescent one. (There is also a studio version of this song, with Joan and Graig.)
"Broken Bone." I wrote this a few years ago, after I broke my wrist. The injury eventually required two surgeries, and I found that for a long time it almost completely preoccupied me. This reminded me of being obsessed with someone, especially when you're not sure what's going on. Also, I love getting a song out of a bad experience! 
"Last Hurrah." Like the next song, the impetus for this was the idiom itself. But it made me think of the end of an erotic relationship and of how you can love and appreciate the physical connection you have with someone but still want more. I was surprised to hear Bebe Rexha, one night on Stephen Colbert's show, do a song with the same title and the same first line in the chorus. But that one's more about indulging in vices of all kinds.
"Unrequited Love." I was walking downtown one morning and this term suddenly came to mind. It struck me as a beautiful one, Shakespearean, just the way it sounds. Luckily, kind of, I've had experience with this phenomenon! And as I said before, I like to get a song out of a bad—or really just difficult—experience. Also, it came out, in the verses, as a rap.
Welcome to my EP, welcome to my Dream.