School shootings are mystifying and tragic. I'm writing this on the Fourth of July (a day when another type of mass shooting has occurred, at a parade), wondering how this country can allow—through lax laws—this horrific kind of thing to occur, again and again. Little children being gunned down. It's hard to fathom. 
Two days after the school shooting in Uvalde, Texas, on May 24, I went to see an expansive and amazing Faith Ringgold show at the New Museum here in NYC. It included a large painting called American People Series #20: Die. Reminiscent of Picasso's Guernica, it showed a violent scene that included two small children (one Black and one white) hunkering down so as not to be killed. There was no way to look at that painting at that time and not be reminded of what had just happened at Robb Elementary School. But sadly, the artwork, from 1967, appears to be timeless, a testament to the power of art and the depravity of human beings.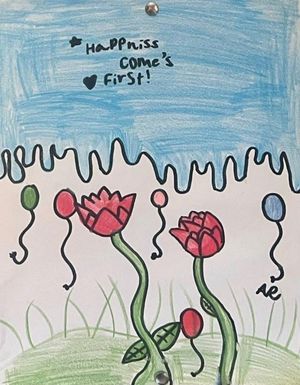 Not long after, I saw another piece of art: a drawing by one of the Robb school victims, 10-year-old Alithia Ramirez, that my cousin Toni, who lives in San Antonio (about 85 miles from Uvalde), had posted on Facebook, via Beto O'Rourke's page. I was taken by Alithia's rendering of a sky—almost weeping, it now seems—balloons, and two red flowers with wavy stems. She'd written at the top, "Happniss come's first!" 
With that inspiration and with facts about the shooting that I'd read in news accounts, I wrote a song, "Alithia's Flowers (Children of Uvalde)." Luckily, a music engineer I'd only recently met, Adam Tilzer, was available to record the song for me at his home studio. I took the Staten Island Ferry there on Memorial Day and we recorded keys (with Adam playing) and my vocal. A couple of days later the fantastic Ward Williams added a mournfully beautiful cello part that took the track to a new level. Then Nick Miller, a producer I've often worked with, mastered the song, enhancing its sound.
I put it on SoundCloud but wanted to notify Alithia's parents, Jess Hernandez and Ryan Ramirez, before actually releasing it. I've been in touch with them, and they told me they "love" the song and kindly allowed me to use Alithia's wonderful drawing for the cover art, designed by C.G. Reeves.  
I've also discovered that a couple of musicians, including Carlos Maldonado, have written corridos, ballads that have a narrative, about the Uvalde event. It's occurred to me that my song is somewhat akin to the corrido, though I was unfamiliar with this Mexican tradition.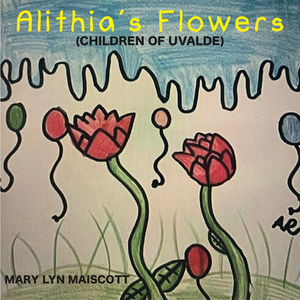 "Alithia's Flowers (Children of Uvalde)" (click title or image above for link) is now out on all major platforms, for streaming or downloading. Amanda Petrusich, the music journalist and New Yorker writer, called it "devastating, beautiful, pure" on Twitter. 
The Uvalde incident was itself, of course, devastating. I see it every time I look at a social-media page connected to that community. I hope that we can stop, or at least deter, gun violence and that children like Alithia can grow up to go to art school in Paris, as she wanted, or whatever they dream of.