Inevitably on Valentine's Day, either my husband, Robert Rosen, or I bring up our trip to Paris in 1997, when we landed at Charles de Gaulle airport on February 14. I'd chosen our hotel there based on its being called "most romantic for those on a budget" by a travel book. Our tiny room turned out to have strange angles, so that the bed more or less faced a corner, and shriekingly hot-pink walls—not to mention being on a street, rue du Dragon, with a lot of noisy construction. However, that night, when we turned on the TV, Casablanca came on. So, yes, romantic. 
On an earlier European trip, I'd taken a picture of Bob on Crucifix Lane in London. We couldn't get over the name of the street but loved the row house he stood in front of to peruse his London A-Z  (always called "A to Zed"). Many years later, as I was rehearsing with the guitarist Hoop, he suddenly grabbed that picture from the top of the piano and said, "Here's your cover for Crucified!" He was talking about an EP I was planning, named for my song "Crucified (La Petite Mort)." 
He was right. After all, Bob was the inspiration for the song. And then, with a little help from an artist friend, a picture of my shadow morphed into an intriguing silhouette in the window of that house.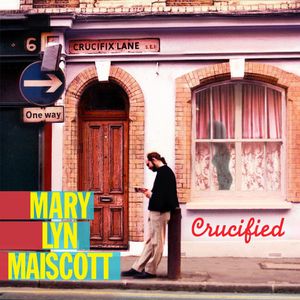 I love the title song's arrangement, by Terence Dover, but between you and me, I'd like to re-record the vocals. At the time I felt they should grab you immediately and not let go. (I thought it would be a great song for a big-voiced singer like Carrie Underwood.) 
Now I see it more tenderly. But that's for another—non-pandemic—day, when I can go into the studio! Maybe next Valentine's?