Gail Harkins, my cousin on my mother's side, died last weekend. Her passion was music: With her friend Beth Gosnell, she founded Rock by the Sea, which organizes music events to raise money—almost $800,000 so far—for various charities. And since its inception, she was an avid supporter of Sister Hazel's The Rock Boat, an annual floating music festival; Gail had made all 20 cruises. In a quiet but unmistakable way (tributes speak of her "glow" when watching bands), Gail cheered on musicians and had the autographed guitars to show for it. She often traveled to see an act she loved—appropriately enough, the occasion for our last meeting, Thanksgiving weekend, 2012.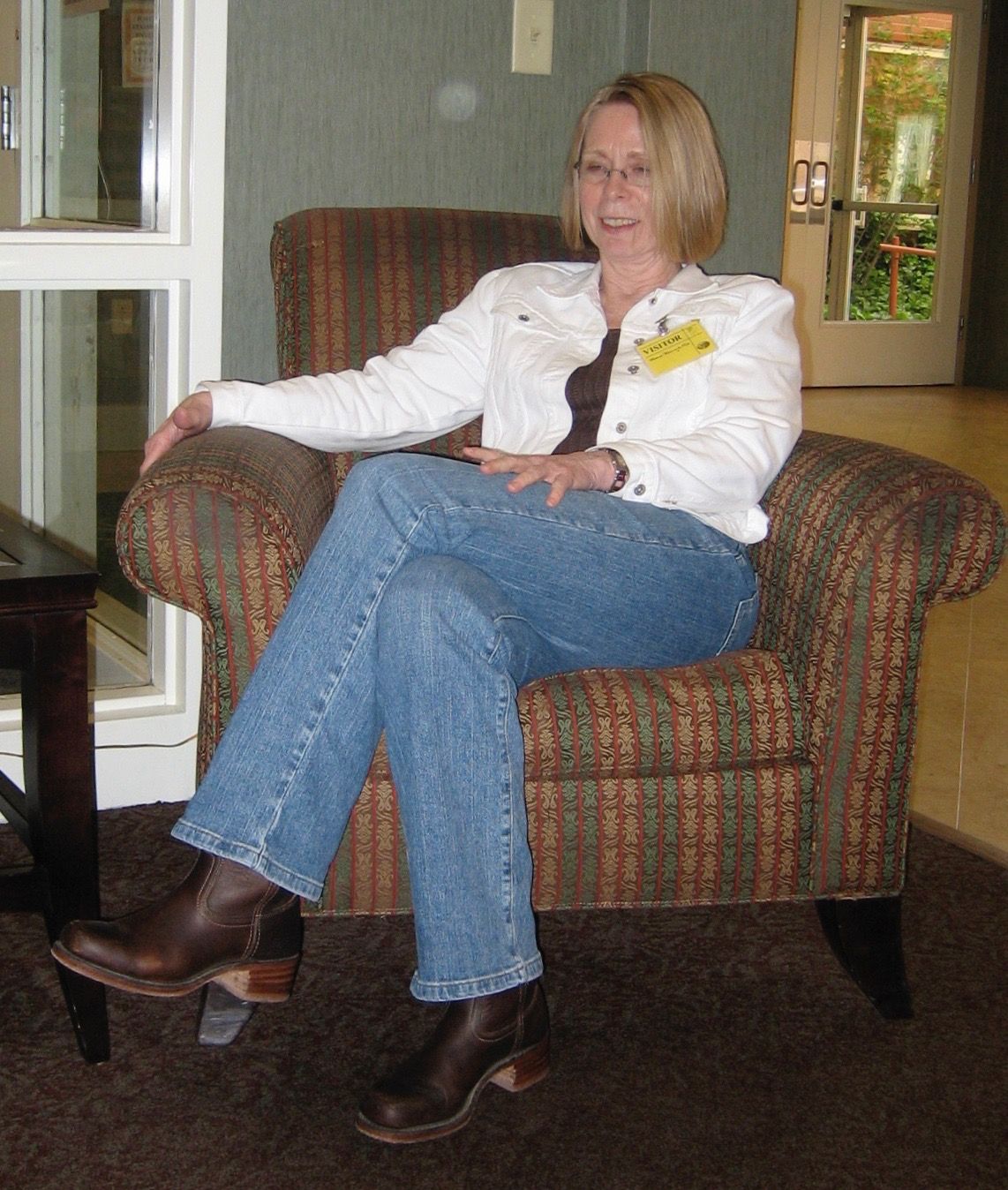 My cousin Gail, visiting my family in St. Louis.
My husband had gone upstate to spend the holiday with his brother's family, but I stayed in town to see Gail, who was coming to NYC to catch the final show of Stephen Kellogg and the Sixers before they went on hiatus. She invited me along, as well as several local musicians that she knew. I joined them all at Central Bar on E. 9th Street for beers and tequila shots before heading over to Webster Hall. I actually didn't have any shots—as I have a complicated history with tequila!—but I was abuzz anyway, so excited to be sharing this night with Gail, especially at an Art Deco–accented venue that I've always liked (going back to its Ritz days). And the next day we had brunch at an airy restaurant across the street from me, on MacDougal. Between that and a tête-à-tête at my apartment, the two of us on the couch, we managed to catch up to some extent.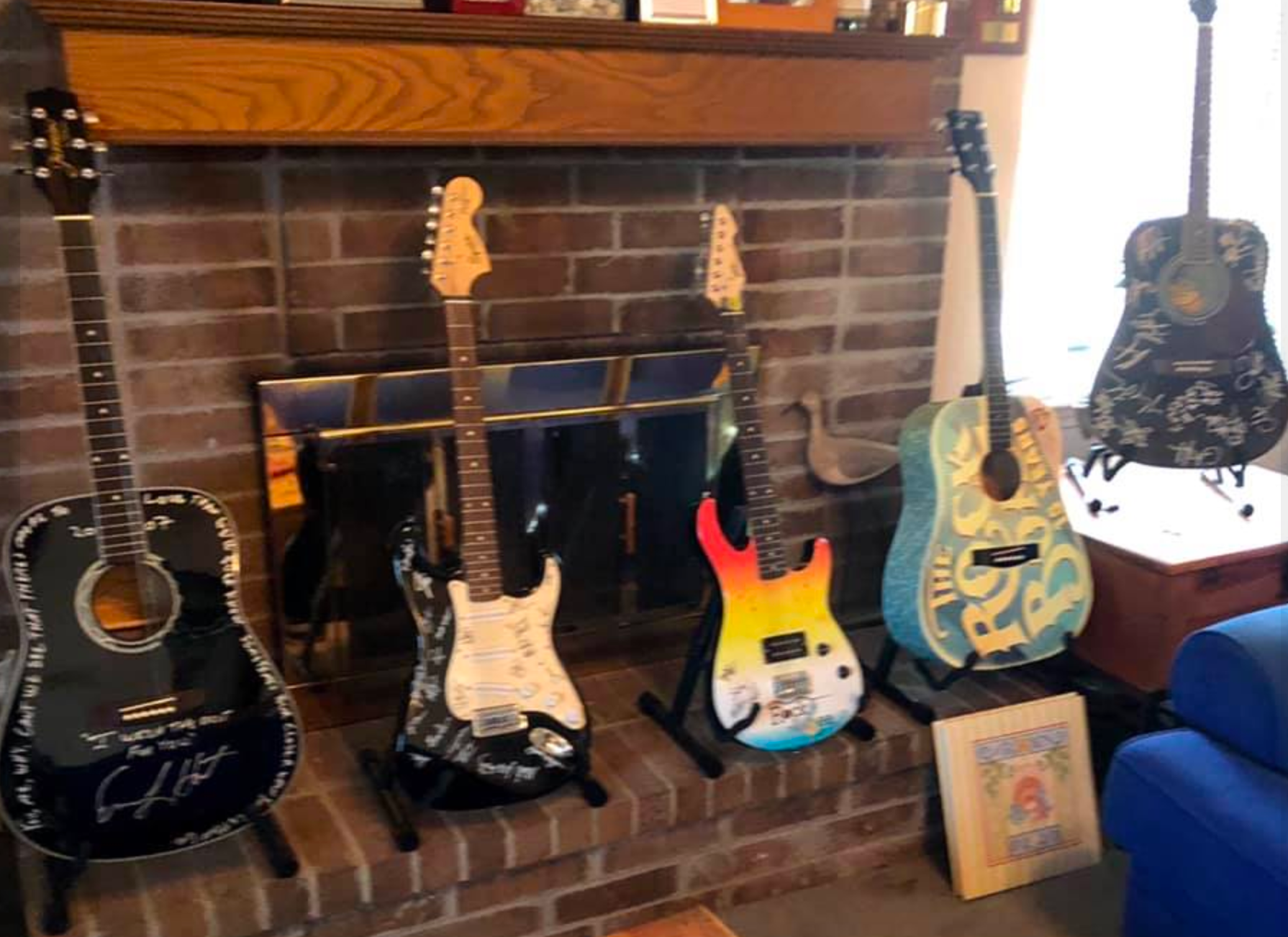 Some of Gail's guitars, given in appreciation, and autographed by such bands as Wideawake, the Alternate Routes, and Five Star Iris.
That was one of only two times I saw my cousin beyond our teenage years. The other was a spur-of-the-moment trip she made to St. Louis in 2006 to see my family, when my aunt Tink, who was living in California, and I both happened to be there visiting.
But as kids we spent many hours together, in Irving, Texas. Gail lived there with her parents and her older brother and younger sister, Jack Jr. (nicknamed Spud) and Toni. Every summer my mother, my own older brother and younger sister, Johnny and Cecilia (Peewee), and I would take the train—first from West Virginia, then, after we moved, from Missouri—to visit Gail's family and my grandfather and aunt, who lived together. We stayed with Grandpa and Tink but gravitated to our cousins' house. My uncle Jack was always ready with a joke—in later life he wrote country songs—and my angel-faced aunt Inez provided snacks, comfort, and anything else we needed. But what I remember best is sitting in the front room, listening to records with my siblings and cousins. Most of us sang the melody along with the lead singer, but Gail did something different: She sang her own harmonies. I wasn't sure how she came up with them, but I thought it was cool. I still do, and recently I started writing a song about it. I need to finish it, and it has to have harmonies. I'll just imagine Gail, off in her own musical sphere, glowing, singing them.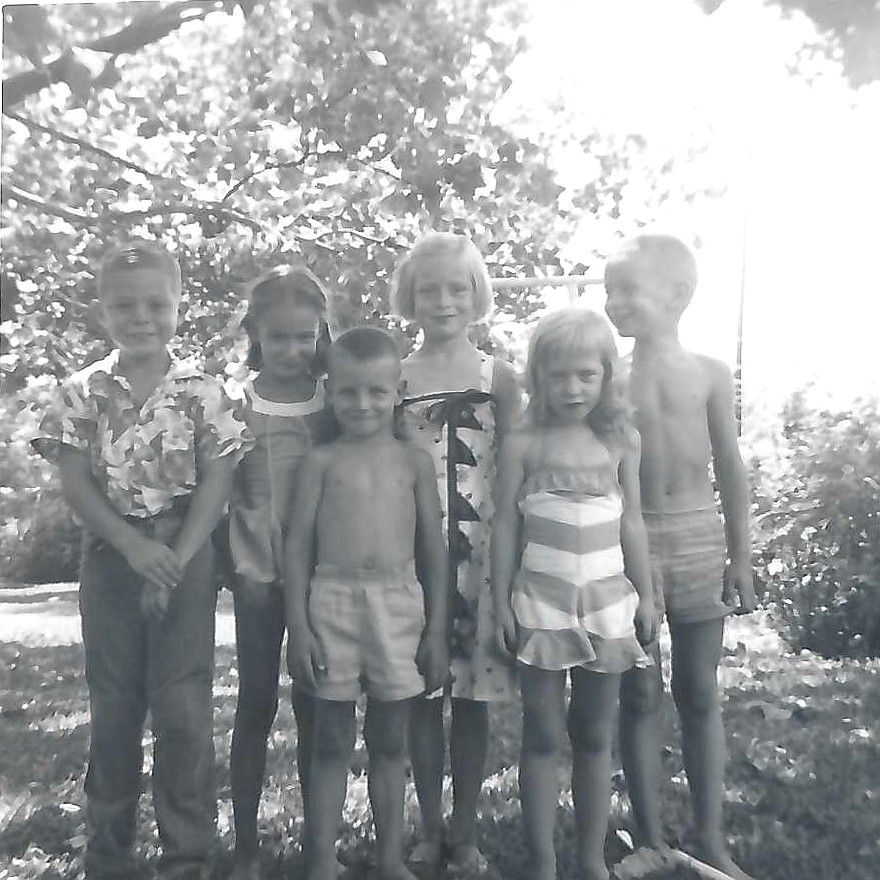 A hot day in Texas long ago: me in front, Gail behind me, our brothers at the far left (hers) and right (mine). In between are our cousins Karen and Ronnie.