…Joan Chew and Graig Janssen—the two musicians I've been working with for a few years now, though for many of you they don't need an introduction. Let's see, we've played: Caffe Vivaldi (sadly, now closed), Bowery Electric, Sidewalk Café (closed), Cornelia Street Café (closed), and Pianos, mostly with repeat visits. I met them both through my wonderful longtime producer, Nick Miller, who brought in Joan to play violin on my song "Alexander/Isabella" and Graig to play piano on "Tiny Stars." Although I approached Graig when I was looking for a guitarist (since he's a great guitarist), it didn't hurt that he also plays piano—as does Joan! Really, I hit the jackpot. With some of my songs (e.g., "Our Lady of the Tears," "Desire"), Graig plays keys while Joan's playing violin; with others ("Middle Child," "Unrequited Love"), Joan moves to the keyboard while Graig does guitar. Sometimes I play rhythm guitar, giving Graig freedom to do his creative, tasty riffs. And sometimes Joan plays percussion, such as the mini-cajón I bought in Barcelona (I found this instrument challenging, but Joan did not, instantly seeking out a snare sound with her usual aplomb).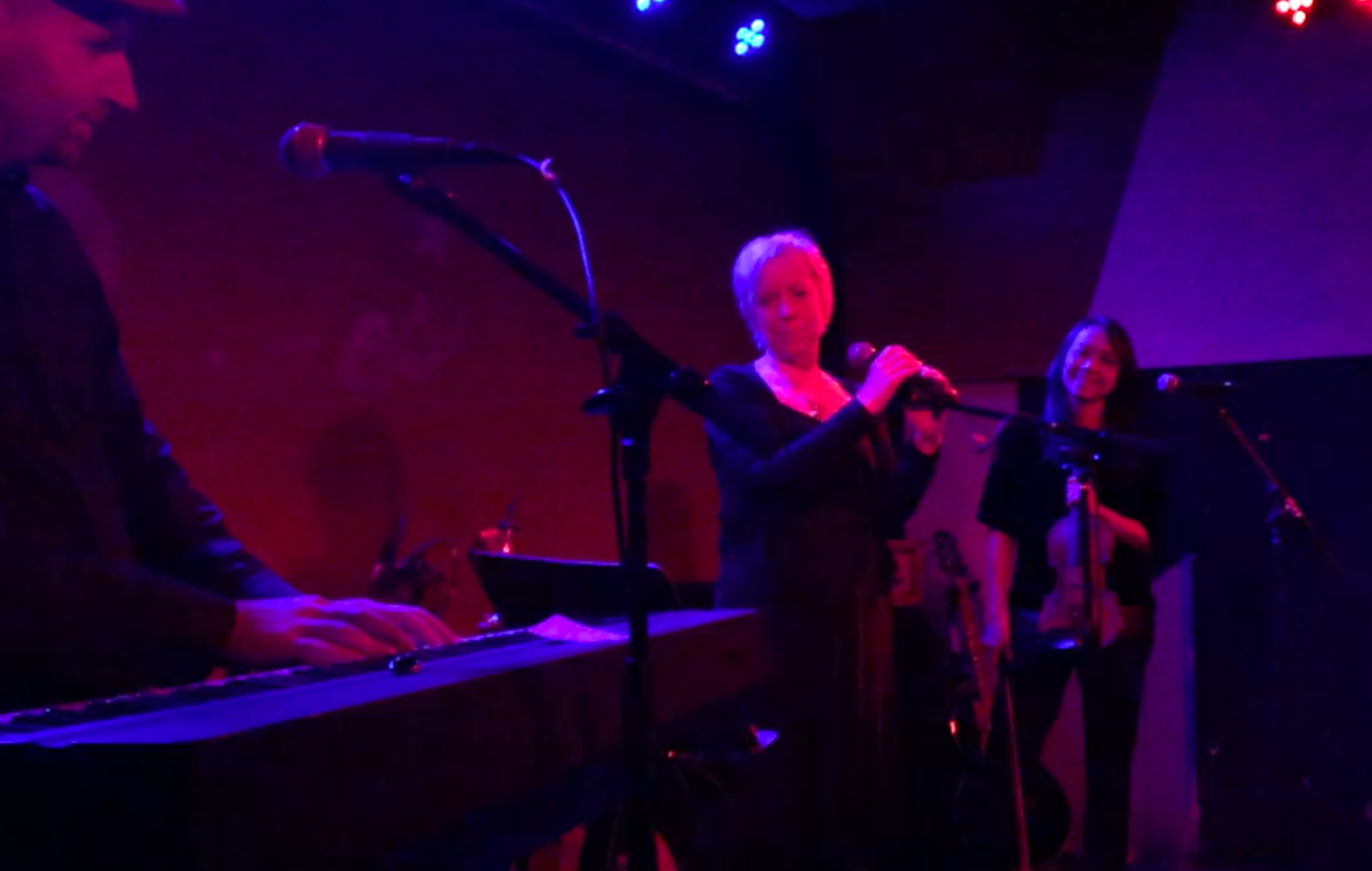 Graig, Joan, and I at our last gig, Pianos, November 25, 2019. 
Graig is also an engineer, and he's helped me out on that front too. The three of us recorded "When Hell Freezes Over" in one session at Mercy Studios, where I've often worked with Nick. And Graig's a fantastic singer—yes, he and Joan also sing background vocals for me! One evening at Mercy, after Joan had laid down an exquisite violin track for "Our Lady of the Tears," Nick told us about a pizza commercial he'd once done the music for. He needed a singer so got Graig to do it. About a second later, Nick had pulled up the pizza jingle on the computer so we could hear Graig singing in lush tones, "…and toh-mah-toh cheeeese" (the commercial was written for a European audience, which may or may not explain this curious phrasing). Good thing we were finished with the recording because we couldn't stop laughing. (By the way, I love the studio après-recording—and  during recording too!) 
Joan is probably best known for an instrument she doesn't play with our group—bass guitar. She's become "Joansy," doing the John Paul Jones parts, in the popular and esteemed all-female band Lez Zeppelin. I've seen them at the Gramercy Theatre and, of all places, the Metropolitan Museum of Art, in connection with its "Play It Loud: Instruments of Rock & Roll" exhibit—even there they blew the (stately) roof off—in a genteel touch, earplugs were offered. That's a long way from the orchid plantation where Joan grew up, in Singapore (hence her lovely orchid tattoo). She's also provided bass for Bird Streets and other groups, and during the pandemic her social media posts have been rich with collaborative and solo projects, such as her riveting bass-and-vocal rendition of "One Fine Day." 
Yeah, I know: I'm very lucky! I hope you'll see us on a stage soon. In the meantime, hear us on my EP Dream: Live Recordings from the Map Room. (We're in the Map Room at Bowery Electric in the photo below.) It features our slow, emotional cover of "All I Have to Do Is Dream," which listeners have called "stunning" and "heartbreakingly beautiful." All you have to do is stream (or download)!