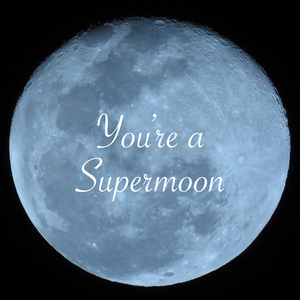 Yes, you're a supermoon to me if you're reading this! And thanks for the listening, streaming, downloading, sharing, or any other way you've been lighting up my music life. 
April's supermoon, along with the quarantine, inspired me to write "I Can't Touch You (Supermoon)," a song that has already taken the form of a performance video and a digital single, which I wrote about here. And now it's a lyric video—my first—released on my birthday (January 24)! 
The video was designed by Christine Haire, with elements from the single's cover art, created by C.G. Reeves and Nancy C. Sampson and featuring a photo of me (taken one Halloween night) by Robert Rosen, my husband. 
So gaze at the sparkling supermoon as you watch—and hear—the words go by… and then consider liking, subscribing, and/or sharing the link with everyone you miss!
Click on the woman-in-the-moon to transport you to the out-of-this-world video: