I've always found Amy Irving compelling as an actor, something about the combination of beauty, delicacy, and intelligence. She was Richard Dreyfuss's enticing rival in The Competition, Peter Riegert's literary uptown girl in Crossing Delancey, and Barbra Streisand's consummate (if unconsummated) beard in Yentl, among other roles.

At the age of 69, Irving has now teamed up with the big band Goolis to do something new—an album, Born in a Trunk (her father was a director and her mother an actor)—that reflects aspects of her life over the years.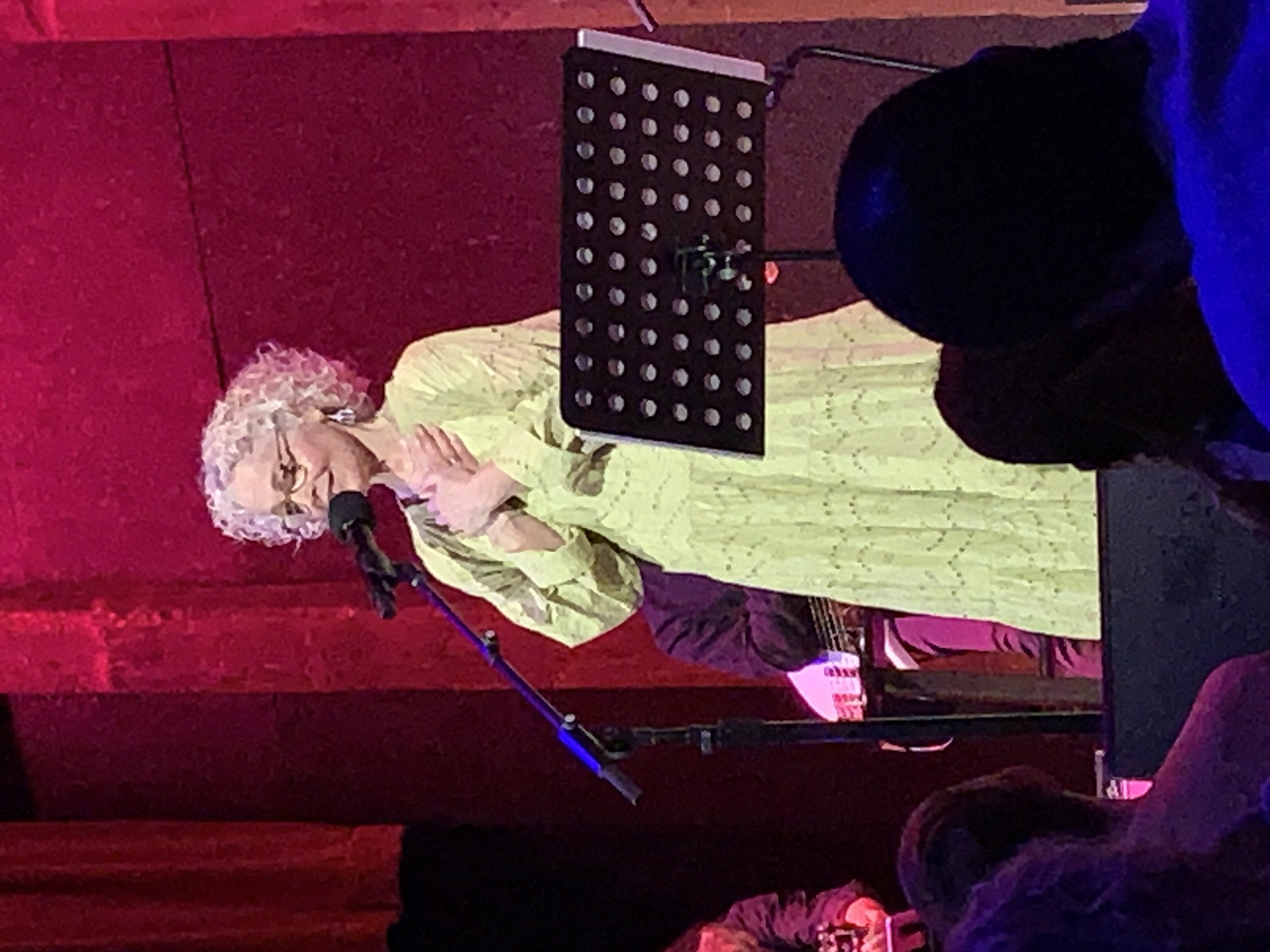 Amy Irving contemplates her life, musically.

At the album-release concert on April 10 at City Winery in NYC, the band, led by Jules David Bartkowski, who also goes by the name Goolis, lent both a lightness and an excitement to such songs as Tom Waits's "Old Boyfriends" ("of which I've had a few," Irving said); Antônio Carlos Jobim's sophisticated bossa nova "How Insensitive" (Irving was once married to Brazilian director Bruno Barreto and starred in his film Bossa Nova); and Death Cab for Cutie's "I Will Follow You into the Dark," which she dedicated to Ken Bowser, her filmmaker husband (even though, she told us, he's promised to outlive her). 

One of those old boyfriends, none other than Willie Nelson—with whom she worked, and maybe more ("we became quite close"), in Honeysuckle Rose—wrote a song, "I'm Waiting Forever," for her. On the album he sings background vocals in that distinctive baritone, with, at times, his signature back phrasing (a little off the beat).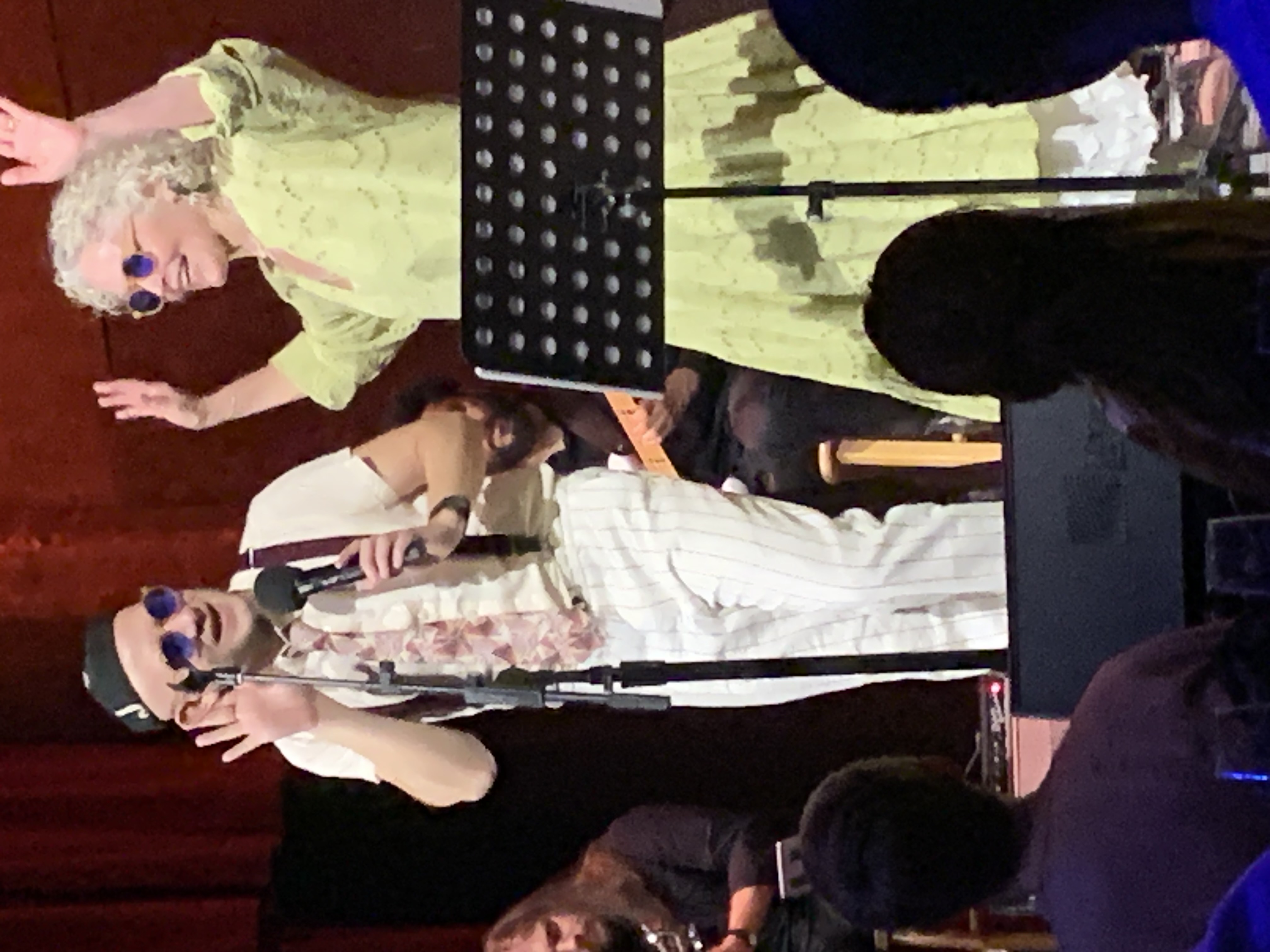 Raising the roof with Goolis.

Wearing a light-green eyelet dress—as though incarnating our imminent spring weather—and small round glasses, Irving greeted us with "I got an overture!" (Indeed she had, an unexpected treat for the audience.) Singing all the album's tracks, which the overture had heralded, her voice sounded clear, vibrant, and impressively strong on the high notes, and she had the impeccable diction of the classically trained actor that she is (at especially emotive moments, she occasionally clutched the voluminous fabric of her flowy dress). At times she sounded as sultry as Jessica Rabbit when that curvaceous toon sang "Why Don't You Do Right?" in Who Framed Roger Rabbit? No surprise there, since Irving, in a kind of fluke, recorded that song for the movie—"much to my old friend Kathleen Turner's chagrin," she told us. (Turner provided Jessica's speaking voice.) Irving has now re-recorded it for the album, its first single and her closing concert song. Her rendition did the toon proud.
She did flub the lyrics at one point during the Tom Waits song (maybe a little too much to think about with "all my old boyfriends"?) and looked a bit befuddled. But after the audience cheered her on, she noted, "And lightning did not strike me dead!" Perhaps a lesson for us all, or at least the singers.

Conducting the band throughout—so great to have a horn section!—Goolis (the person, who is a friend) provided a casually suave complement to Irving, joining her to sing a couple of the songs, as he does on the album, in an understated way, like a lover who cannot quite reach his beloved. He was also fun to watch as he directed the fantastic musicians—he did all the arrangements—with an almost feline fluidity (if cats can have jazz hands). When I mentioned him to Irving after the show, she said, "He's my Cab Calloway," invoking the 30s bandleader at the Cotton Club. 

And then Irving was gone, off soon to celebrate another milestone, Crossing Delancey's 35th anniversary, at the TCM Classic Film Festival in Hollywood. And I followed Goolis (the person and the band) to Spaceman Sound, their recording studio in Greenpoint, Brooklyn, for the after-party to catch the groovy, joyous vibe a little longer.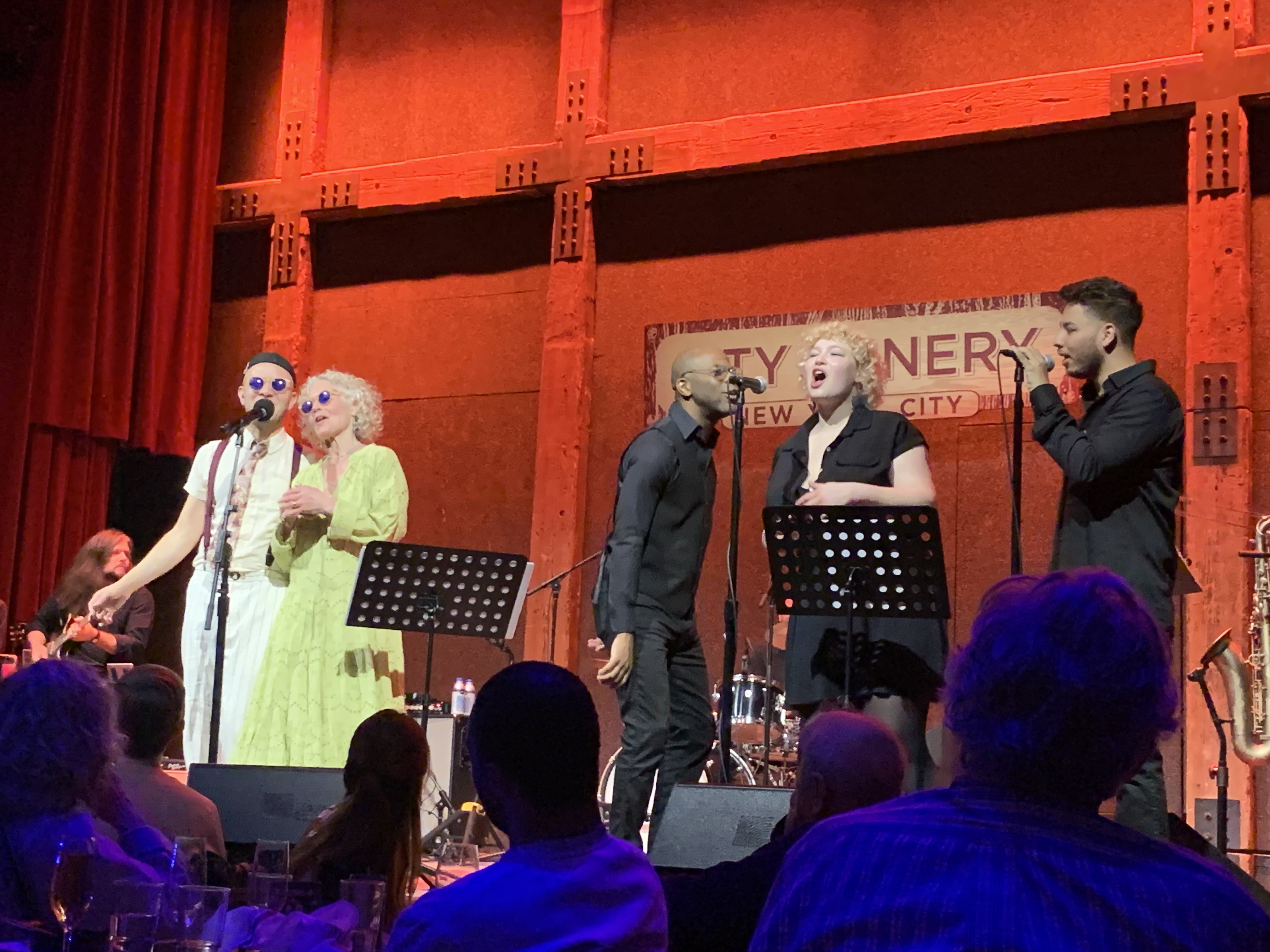 Doing an encore with, from left, Tom Tierney (guitar), Goolis, Kelsey Warren, Emma Blackman, and Gabe Nathanson. The other band members were Ethan Meyer (drums), Barry Stephenson (bass), Aaron Lindenberg (keys), Sammy Mellman (trumpet), Max Mellman (trombone), and Gabriel Garcia (alto sax). Blackman also played tenor sax.