My song "Alithia's Flowers (Children of Uvalde)" has led me down a few paths. I contacted Alithia Ramirez's parents, Jess Hernandez and Ryan Ramirez, shortly after recording it. I wanted them to know that I'd been inspired to write the song by a drawing made by their daughter, who died in the Uvalde, Texas, school shooting. Since then we've had several exchanges, and I've also frequented local social-media pages, such as for Uvalde Strong. As the Times reported in a recent article, Uvalde is a tight-knit community, and of course it's also a devastated one now, with grief-stricken people supporting other grief-stricken people.
Recently, I read a related article in the Times, about the trial of the gunman in the Parkland, Florida, school shooting. It made me wonder about the shooters in these cases, and I ended up writing a letter in response, which the Times published a few days later: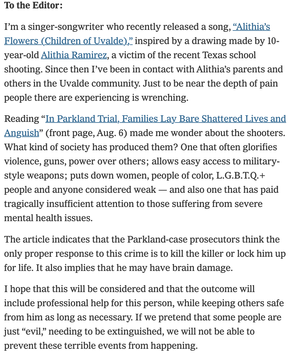 Around that time I also discussed the song and its aftermath in a video interview with my good friend (though I've never met him IRL) Youngstown radio host Louie B. Free. I go way back with Louie, and my husband, the writer Robert Rosen, goes even further back. Over the years he's interviewed Bob about his books and me about my songs many times; he even broadcast our wedding! Here's the video, with thanks to Louie, a wonderful, empathetic host.