A couple of decades ago, like many other New Yorkers, I used to love picking up the weekly Village Voice on Wednesday mornings. A few of the names I looked for in the pages at that time were writers Vivian Gornick and Cynthia Heimel, cartoonists Jules Feiffer and Lynda Barry, and photographers Amy Arbus and Sylvia Plachy. I also always read the section called "Getting and Spending," in which writers touted stores and products, but often in a creatively askew way. One day I decided to write something myself and send it in to Mary Peacock, the section editor. It was about vintage aprons I'd seen (and purchased, in one case) at Alice Underground, that I thought could be freed from their traditional culinary role to just look cool over a skirt. To my surprise, she published it, and then I became part of her stable of writers, going on to write about such items as old-fashioned full slips from Lamston's, abstract-looking bookends from Pearl Paint, and even beach towel dresses that you too could make yourself—I modeled my own for the accompanying photo, a red belt cinching my Puerto Rico towel as I stood shaking maracas (not sure why) on a rotting Village pier. 
Like the stores I mentioned above, the Voice eventually folded—first the print, then the website, but it was resurrected in 2021, including the print, which is so wonderful to see again in those Voice kiosks around town. I did an interview with Rickie Lee Jones for the April 2022 issue, and now my new recording, "Alithia's Flowers (Children of Uvalde)" is a Voice Choice on the website. The article talks about my communications with the parents of Alithia Ramirez, the 10-year-old Uvalde victim whose drawing inspired the song.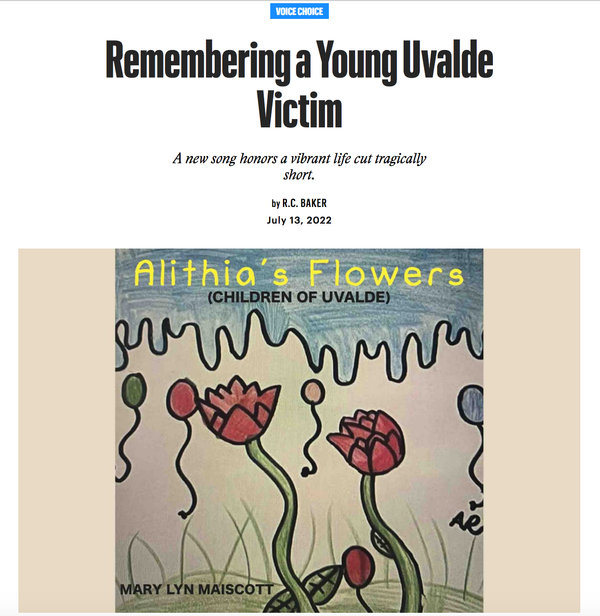 Looking at that long-ago Voice photo of me, I'm reminded of a more carefree (stressing "more") time. The piers were rotting but not the whole state of Denmark. 
Still, may we derive hope from Alithia's flowers and her dreams and keep creating and believing in resurrections. And thank you, Village Voice, old friend.