Someday I hope to talk to Rickie Lee Jones about her song "Living It Up," which contains one of my favorite lines of hers: "[They] carried her over the bridges like fluttering pages." The song is about a trio of familiar Jonesian street characters—colorful, yearning, down-at-the-heels—yet mysteries abound.  
The first lines of the chorus, "Oh Wild and the Only ones / Tell him where you are," invite speculation. Who's "him"? Why the caps (as we say in publishing) on "Wild" and "Only "? And who are the Only ones—though in the song's bridge we do find out they're "living it up," whatever that means!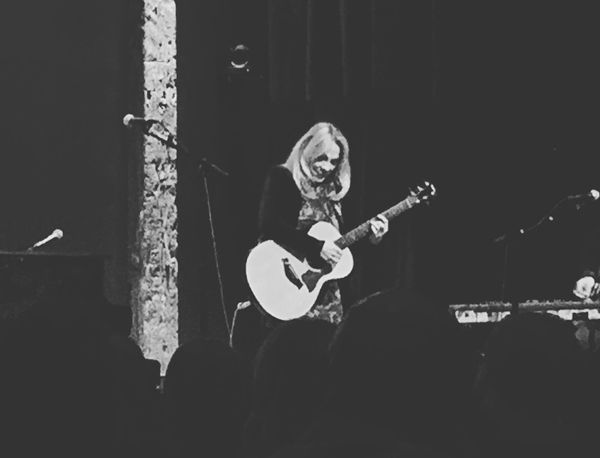 Rickie Lee Jones at City Winery, NYC, March 17, 2022.
When I heard the song live at City Winery in NYC last month, Rickie repeatedly left out "and the Only ones." So, again, why? But that's a cerebral question, overtaken that night by the deep emotion her music evoked in me. I wrote in my notebook, "Am I the only one who wanted to weep at the presence of this woman…." Later I realized that with that phrase "the only one," I'd used (almost) the words she'd omitted—an unconscious wish to restore them? Or to be among those living it up? Though at the club, experiencing this phenomenal show, I definitely was.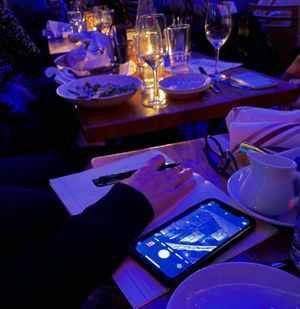 Writing my impressions of the concert. Photo by Terry Bisbee.
There wasn't time to delve into specific songs during an interview I did with Rickie, a couple of weeks before the concert, for The Village Voice, but she and I covered a lot of other ground, including her love of West Side Story, the pros and cons (mostly cons) of having money, and the super-friendliness of her current hometown, New Orleans.
Ten years before, I'd interviewed her for Vanity Fair (and had also seen her in concert at City Winery). I feel lucky to have gotten to talk to this musical genius not once, but twice. I hope you'll join us for our latest convo—and a bit more on the show—by clicking on the screenshot below.