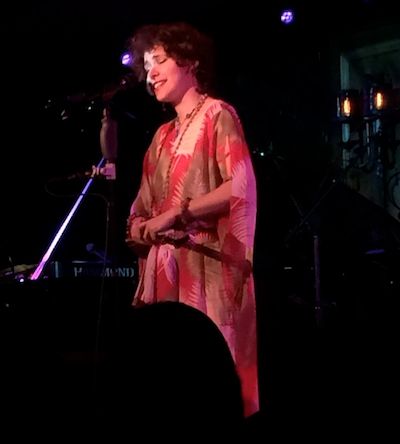 Nellie McKay at 54 Below.
Deep into her set at 54 Below last night, Nellie McKay gave a clue, in the only original song she performed, as to why she'd chosen to do an album, the new My Weekly Reader, of 60s tunes. Seated at the piano, the outspoken animal activist sang about not wanting to sing about carriage horses and vivisection—she just wanted inner peace. Of course, inner (and outer) peace was the name of the game in the latter part of the 60s, with a little love and understanding on the side. (A subtle liquid light show pulsed behind Nellie, and incense wafted around the tables.)
Although Nellie heightened the effect with a flower-child kimono, and pronounced echo on her vocals, it was clear, ensconced in the glittery show-biz elegance of the club, that we were not at Woodstock (no rolling in mud would commence). And Nellie was hardly out of her element in this theater-oriented place; she appeared in Old Hats in 2013 and won a Theatre World Award for her performance in Threepenny Opera in 2006.
Some people have a career arc. Nellie's is more of a career roller coaster, and wouldn't it be fun to ride the wheels of her brain for a while and find out just why she makes the choices she does. After taking the music world by storm at 21 with her double album—the doubleness instigated a tussle with her label, Columbia, for Nellie does not shy away from tussles—Get Away from Me (note the subversive humor already asserting itself), she went on to, aside from performing in the Broadway shows mentioned above, play both conservationist Rachel Carson and Billy Tipton, a female musician who passed for male, in bio-concerts she conceived herself (the latter also at 54 Below).
And along with the periodic albums of her own expert and genre-defying songs (e.g., "I Wanna Get Married," "The Dog Song,"  "Zombie," the gorgeous "Bruise on the Sky"), she performed on the quirky public-radio show A Prairie Home Companion and recorded a tribute album of the songs of Doris Day—whom she invariably called "Miss Day" when I interviewed her for Vanity Fair's website a few years ago. (Her pit bulls, Bessie and Hank, appeared with her on the cover of the album. I once got to play indoor fetch with Bessie with an extremely slobbered-upon green ball.)
So now: the 60s. Right-up-her-alley protest songs included Country Joe McDonald's "I-Feel-Like-I'm-Fixin'-to-Die Rag," with updated lyrics ("Don't ask me, I don't give a frack/Next stop will be Iraq") and introduced with the famous Woodstock cheer ("Gimme an F, gimme a U…"). These were counterbalanced by such tender works as Gerry and the Pacemakers' "Don't Let the Sun Catch You Crying" and John Lennon's "If I Fell." She was backed by the fabulous Cosmic X-Rays: guitarist Cary Park, drummer Kenneth Salters, and bassist Alexi David. They supplied some nice harmonies, but you need to listen to My Weekly Reader to hear Nellie's shimmering harmonies with herself, as on "Quicksilver Girl."
During the set, she switched from piano to ukulele and back again, with the occasional harmonica riff. She added a Hammond organ to atmospheric effect on Eugene McDaniels' "Compared to What," which, unfortunately, is not on the new album. Neither is Cream's "I Feel Free," in which her ethereal voice took on some grit as she stood at the mic. Even her tambourine seemed to vibrate with purpose.
As I was Googling "I Feel Free," Nicki Minaj's song of that title came up, so I checked out the lyrics to both songs. Minaj's have swagger: "We just bought the bar/…She know I'm a star." Cream's have transcendence: "Dance floor is like the sea/…You shine on me." It's not taking anything away from the resplendently fierce Nicki to say that this contrast would make me understand, if I did not already, Nellie's pull toward the 60s. But whatever decade or style her crazy ride might take her to, I feel sure that she will continue to shine on us.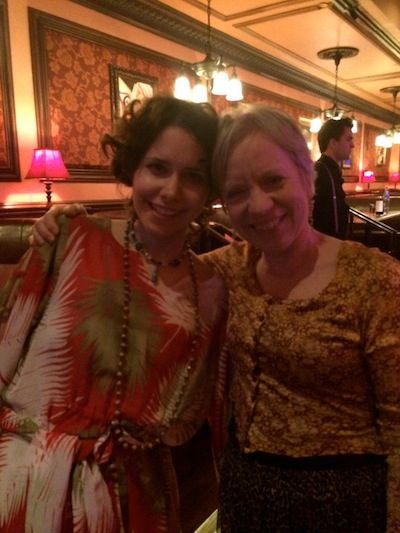 On a personal note, it was lovely to see Nellie again. Her kimono reminded me of the colorful caftan and Dolly Parton–esque wig she'd worn at the release party for her beautiful and biting album Home Sweet Mobile Home. Not surprisingly, besides being wickedly talented, she's wickedly funny.